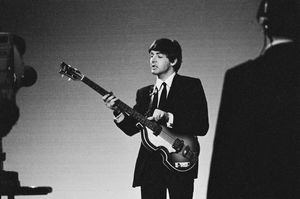 One of my oldest memories is sitting by the radio waiting to hear Twist and Shout. In my seven year old brain, it seemed like they never played it but they probably did every half hour or so. The anticipation was great and the disappointment crushing when the greatest song ever did not come up.  
My love of all things Beatles grew from there. Playing Beatles songs with The Back Beats made my admiration for Paul McCartney and his bass only more intense. He always adds something special to even the simplest songs. His bass line on Twist and Shout is the melody for La Bamba, least  some of the time. He never seems to do the same thing twice or for very long.  
McCartney is a master of his craft and we are lucky to be able to enjoy his art. I will never be Sir Paul (he is left handed and British, for starters), but I have the pleasure of diving into his awesome body of work with The Back Beats. 
- Bruce Benson