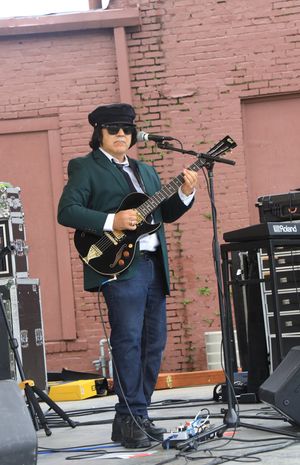 For many years I dreamed of starting a band, but for various reasons that never happened. On April 13, 2019 that dream was finally realized. On that warm, humid spring Saturday, 5 guys, some of whom had never met in person, got together in a house in West Little Rock to rehearse 10 vintage rock 'n roll songs. Over the course of 3 hours it was clear that there was good chemistry and that this group of 5 guys had the potential to create great music. The BackBeats were born! Over the next 6 months these 5 guys worked very hard to put together a set list of hard driving, energetic rock 'n roll songs characterized by tight rhythms, catchy melodies, tasteful riffs, and strong vocals. On a cool cloudy late October Saturday in Russellville, AR, all of that effort finally came to fruition! But the story of the BackBeats really began several years ago when I heard Sonny Burgess and the Pacers play old time rock 'n roll on South on Main. This group of 80 something year olds were the real deal. They recorded with Sam Phillips at Sun Records in the 1950's & toured with Elvis, Jerry Lee Lewis, Carl Perkins, and Roy Orbison. I was blown away by their energy & musicianship. It was like being transported back in time. This is where the idea of forming a band that recreated the original sound & vibe of vintage rock 'n roll started.
Last year I was fortunate to purchase a B&G Little Sister guitar made in Tel Aviv Israel. This guitar was fashioned after an old delta blues guitar & fitted with hand wound 1950's style humbucker pickups. When I plugged this guitar into a Fender amp, I immediately realized the magic of recreating a vintage rock 'n roll guitar tone. It was around this time that I enrolled in an online guitar course & took a deep dive into studying the guitar style of Chuck Berry. In February of this year, while vacationing in the Dominican Republic I saw a rock tribute show. While these "kids" in their 20's were decent musicians, they were playing 50's & '60's songs like they were 80's & 90's songs. They just didn't have the feel of what this music was about. It was at that moment that I realized that there people who didn't understand this music & that when the Sonny Burgesses of the world pass on there may not be many people left who could play the music of the '50's & 60's the way it was originally intended to be played. The idea of forming a band that played old time rock 'n roll by plugging a couple of guitars into some vintage amps without a lot of effects or gimmicks, featuring tight rhythms, catchy melodies, tasteful, clean guitar playing, and naked, unprocessed vocals began to take form. I began to put a playlist together featuring music by Chuck Berry, Buddy Holly, Carl Perkins, Eddie Cochran, Roy Orbison, early Beatles, & early Rolling Stones. I wanted to form a band that would be like a musical time capsule; like somehow going back in time & listening to a garage band from the mid 1960's perform.
Then one day after finishing a Catheter Ablation procedure in the EP lab, I turned to my friend & colleague, Andy Hollinger & I told him about my idea & asked him if he was interested in forming such a band with me. My original thought was that Andy & I would play guitar together, but instead Andy wanted to front the band. Andy then invited Jim Cozad to play guitar & Jim invited Bruce Benson to play bass. I invited James Moses to play percussion. Even though I had never met Jim or Bruce before & James didn't know anyone except for me, our band began to take shape. Fast forward to yesterday when we played the Fall Fest in Russellville & this is the story of the BackBeats. I consider myself very fortunate & blessed to know & be able to play music with Jim, Andy, Bruce, & James. They are all excellent musicians & great people. I also want to thank everyone who came out to Fall Fest in Russellville to support our band. We're looking forward to playing more venues around the central Arkansas area.