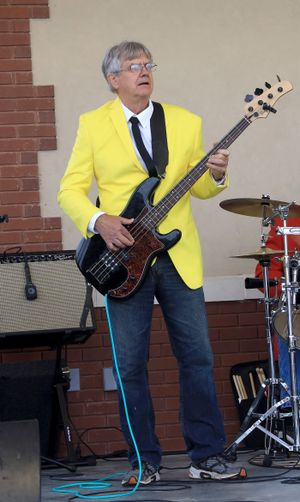 Bruce is a northern transplant.  He grew up in the frozen tundra of Wisconsin as a Packer fan and shareholder. He moved to Arkansas to thaw out. Once in Hot Springs Village he immediately looked for a band to join. His first band featured Jim Cozad, who was his link to the Back Beats. 
Bruce spent 20 years working for the phone company and has been a telecommunications consultant since then. He spent many years on the road and decided to buy a mandolin to avoid the tedium of endless hotel rooms. That was where his musical journey began.  
Bruce has tried different instruments over the years besides the mandolin including guitar and ukulele. He concentrated on the bass because, "It has four strings and I have four fingers. I think I could figure this thing out." The bass turned out to be a good fit, as did the Back Beats. 
"Rockabilly, early rock and roll, and British invasion music is the greatest music and I am thrilled to be able to play it."