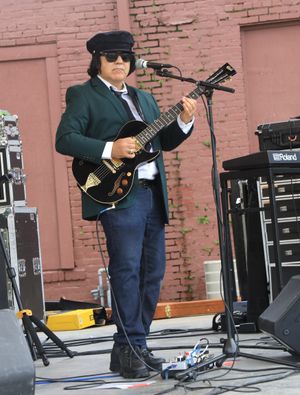 As a young guy in his hometown of Somerville, New Jersey, Back Beats guitarist/keyboardist Jeffrey Neuhauser had six years of piano lessons and then decided to take up guitar. He bought his first one for $50 and took lessons before heading off to college in Philadelphia; there, he studied guitar for two years, learning much from some of his fellow college students, and played in a classic rock band before entering medical school. 
Because he'd been away from the piano for several years, Jeffrey jumped back in with jazz and blues piano lessons from popular Philly musician Russ Faith. Then it was off to the University of Oklahoma where Jeff completed a fellowship in cardiac electrophysiology. 
Over the years, Jeffrey has studied guitar, keyboard, and voice at Berklee College of Music, and attended workshops at Davis and Elkins College as well as the Pinetop Perkins Foundation (led by Ann Rabson, Erwin Helier, and Daryl Davis). Jeffrey also studied blues guitar with Bob Margolin, who played with Muddy Waters, and piano with gifted Memphis pianist Nat Kerr. Currently, Jeffrey studies blues and jazz piano with Bruce Katz, a member of The Blues Hall of Fame and former member of Greg Allman's band. 
With a love of rock 'n' roll and blues, Jeffrey decided to pursue his lifelong dream of starting a band that would faithfully recreate these vintage sounds: The Back Beats were born!  As Jeffrey often says, "playing music should be fun. If it's not, then it's time to do something else!"  When Jeffrey is not playing music he's busy as an attending Cardiac Electrophysiologist in the Baptist Health System in Little Rock.