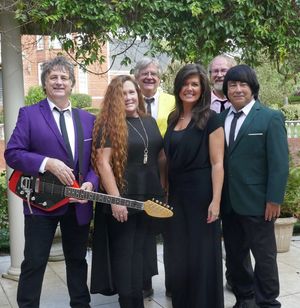 Meet our new vocalists!
Kristen Dempsey (second from left) was born on Christmas day into a family of talented musicians. Her parents met while performing in Tobacco Road on Broadway. Her mother encouraged her to sing Barbra Streisand songs as a child. Her love of singing shone as she competed in and won talent and beauty contests growing up. 
As an adult, she sang in a few bands. Her fans said her voice was the closest to Patsy Cline they had ever heard. She drew her inspiration as a singer from her parents, Cline, Karen Carpenter, and Barbra Streisand. A contract in Nashville was in her future in 1996, but as she was set to leave Arkansas, her car was struck by a drunk driver. 32 surgeries and two years later, she was able to return to her singing career. 
She loves The Back Beats' music, and singing is her passion. The only thing Kristen loves more than singing is her son and her three amazing grandkids.
Ginifer Fox (forth from left) grew up in the heart of rhythm and blues country, southern Mississippi, amid a family of musicians, including her father, a New Orleans jazz saxophone player. Ginifer frequented the stage, from the church choir to weddings, performing melodic harmonies with her talented mother and two sisters. She gained more performance experience as a teen, expanding her stage from small community events and local theatres to performing as a vocalist/dancer with a traveling competitive company, The Showcase Performers. 
Ginifer and her husband John settled in Cabot, Arkansas, where they've enjoyed raising their two beautiful daughters, Ginaley and Gaunne. They all share a deep love and passion for music of all genres and often find themselves attending concerts together as a pastime. Her love of soulful sounds and the stage lead her to The Back Beats. When Ginifer's not performing, she's still reaching the hearts of many as she continues her career in the cardiology industry and lives by the ever-so-true saying "Music is life, that's why our hearts beat."